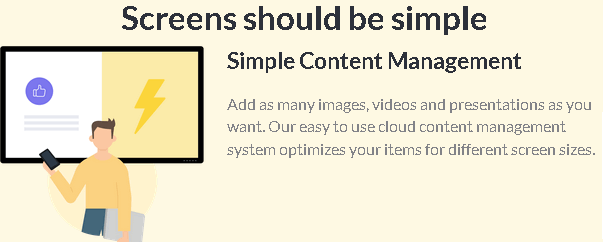 Screen Management
Add Screens Quickly * Pair a screen in three simple steps, then remotely control and manage your screens from anywhere.
Make Bulk Edits * Select multiple screens by name, location or tag and create bulk edits, like changing a Channel.
See Screen Status * View the live status of your screens and check for any which are offline.
Cast to Screens * Quickly takeover one, or many, of your screens, then resume your regular content schedule.
Portrait or Landscape * Support for screens in portrait and landscape formats.
Group Screens Easily * Create and manage groups of screens and easily label them with group names and tags.
Content Management
Channels *Give every team a voice with Channels and group content like playlists and media files together by theme, department or topic.
Playlists * Drag and drop content into order and change default durations for different media types.
Smart Scheduling * Schedule content in advance and choose when it expires.
Media Library * Organize content with nested folders and tag content to make content management easy.
Images * Unlimited image uploads (jpg, jpeg, gif, png & svg).
Videos * Unlimited video uploads (mp4, ogg, webm, mov & mkv).
Documents * Unlimited document uploads (pdf and most Office/iWork formats).
Secure Dashboards * Ability to access data from sites such as Trello, GitHub, PowerBI, SignalFX, Tableau, Grafana and DataDog securely.
Smart Preview * Scroll through content and check it against different screen dimensions, before you hit publish.
Custom Layouts * Split up your screens with custom zones, using one of our templates or create your own.
User Management
Unlimited User Accounts * Add as many users as you like for free.
User Permissions * Select multiple screens by name, location or tag and create bulk edits, like changing a Channel.
Branding
Saved Themes * Create and save themes including brand colors, logos and fonts to custom brand apps in a click.
Apps & Integrations
Free App Store * 80+ apps to integrate social media, news feeds, Gsuite, digital menu boards and more.
API * Access to GraphQL API, allowing you to build custom applications